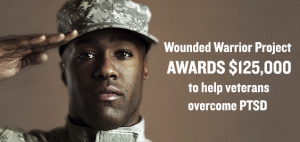 Based on its success in alleviating PTSD for USA veterans, The David Lynch Foundation (DLF) has received a $125,000 grant from the (American) Wounded Warrior Project® (WWP) to provide the Transcendental Meditation (TM) technique to veterans who are affected by combat-related post-traumatic stress disorder.
The David Lynch Foundation delivers the easily-learned, evidence-based TM technique to reduce symptoms of PTSD by up to 50 percent as well as markedly reducing anxiety, depression, insomnia, and substance abuse.
"For over ten years, the David Lynch Foundation has provided a critical missing tool for veterans and other at-risk populations to overcome the nightmare of trauma and toxic stress in their lives," said Bob Roth, executive director at DLF. "The effectiveness of the TM technique has been verified by more than 350 peer-reviewed studies, which have been funded, in part, by more than $30 million in grants from the National Institutes of Health and the Department of Defense."
Research conducted at Fort Gordon's Dwight D. Eisenhower Army Medical Center in Georgia, USA found that regular Transcendental Meditation (TM) practice reduces post-traumatic stress disorder symptoms and consequent reliance on medication for service members. The study was funded by a grant from the David Lynch Foundation's Operation Warrior Wellness.
Seventy-four military service members with documented PTSD or anxiety were sampled for the research. Within one month of practice, nearly 85 percent of meditating service members decreased or ceased psychotropic medication as compared to only 59 percent of controls. In addition, only 10 percent of meditating service members increased medication dosage, as compared to 40 percent of controls. A similar pattern was recorded in the subsequent months.
"Working together with these excellent organizations, we are expanding and strengthening the network of support we can provide to our warriors, free of charge," said Steve Nardizzi, chief executive office at WWP. "Side by side with WWP, our grant recipients are creating and deploying critically needed, specialized programs and services across the country, ensuring that no warrior falls through the cracks."
WWP focuses on providing grants to organizations that provide services outside the scope of WWP's 20 free programs and services. The David Lynch Foundation was awarded a grant because it delivers services that alleviate sleep issues, a funding priority.  This was selected by WWP as a result of direct feedback from injured veterans in WWP's Annual Alumni Survey, in use since 2010. The results help WWP gauge the top issues that injured veterans, their families, and caregivers struggle with as they transition from military to civilian life.
A full manuscript of the study is currently in press in the journal Military Medicine.
PTSD affects not only soldiers traumatized in battle, but can be experienced by anyone subject to trauma.  For example, in addition to helping veterans, TM has been found to reduce PTSD for abused women and children and  victims of war.
Perhaps our Canadian government would do well to consider Transcendental Meditation for our own "wounded warriors", including:  refugees who are victims of war; women and children subject to family violence;  anyone suffering from PTSD.  These people could be better able to re-integrate into society and live happier, more productive lives, far less dependent on the government for support.
ABOUT WOUNDED WARRIOR PROJECT
The mission of Wounded Warrior Project® (WWP) is to honor and empower Wounded Warriors. WWP's purpose is to raise awareness and to enlist the public's aid for the needs of injured service members, to help injured servicemen and women aid and assist each other, and to provide unique, direct programs and services to meet their needs. WWP is a USA national, nonpartisan organization headquartered in Jacksonville, Florida.
LEARN MORE:
About DLF's Veterans Program
Help Support DLF's Programs